The Mind Has No Limits
by Gerald Jampolsky, M.D., and Diane Cirincione, Ph.D.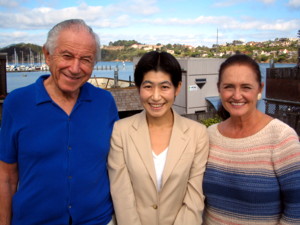 About a year ago we received an email from Mizushima Hiroko who was then a member of the Japanese Congress. Hiroko (her first name) had read many of our books in the Japanese language and found that they had opened up her heart to a new way of looking at the world and herself.
We exchanged many emails and telephone calls. Finally she arrived in Sausalito, California with her husband and two adorable children to attend the International Conference on Attitudinal Healing last October entitled, "Your Attitude is Everything."
Although she later found out there were already three small Attitudinal Centers in Japan, she had such a fire in her heart that she felt guided to bring Attitudinal Healing to the city of Tokyo.
She was recently defeated for re-election to congress, but felt it was a blessing in disguise. After spending some time at our center in Sausalito, she made a decision to move her family from Japan here so she could spend more time and thoroughly grasp the concepts of Attitudinal Healing. At the beginning of January, she started a six month internship with the Center.
Hiroko is truly a remarkable person who is filled with a passion of spirit. We introduced her to Judy Skutch Whitson (original publisher of A Course in Miracles) and her husband Bill Whitson (who is in charge of the Course's translation process). It did not take Hiroko long to become an ardent student of the Course.
Before coming to the Course, she already believed that nothing was impossible and did not feel that her heart or mind was bounded by any limits. She continues to have an extremely large number of followers who receive a weekly newsletter from her. She has both a medical degree and a Ph.D. and had a psychiatric practice with children before she was elected to congress.
She clearly demonstrates how one person can make a difference. When you are with her, you feel the important impact she makes on everyone she meets. The Washington Post Newspaper described her as "the Joan of Arc of Japan" because she believed in the equality of men and women in Japan. She has a loving and fearless attitude. Her husband is also quite remarkable. When Hiroko decided to run for congress, he decided to stay at home with their two children. In Japan, this is most unusual. Hiroko, in our opinion, is the type of person who once she feels guided to make a decision puts a hundred and ten percent into her commitment.
Hiroko, at the moment, feels that she will run for congress in another four years. It is our opinion, if she does and is elected, that Japan will never be the same. We are including this excerpt from an article by Murakami Mutsuko, a correspondent in Tokyo for Asia Week, written about Hiroko:
Okay, I am not related to Mizushima Hiroko. But as I learn more about this 32-year-old psychiatrist-turned-politician, I feel a strong kinship with her. Finally, Japanese women of my generation -- educated, informed, exposed to the world and ready to break free from the male-centered social code of our country -- have a female parliamentarian who speaks with us. Mizushima is the first Diet member I know who is specially calling for a "gender-free" society.
She proved her credentials last month when she was chosen by her party, the opposition Democratic Party of Japan, to grill the prime minister and his cabinet. Mizushima left her clinic to "treat the whole of society" after counseling troubled juveniles at Tokyo's Keio University Hospital. "Treatment my patients, mostly girls and adolescent women, I came to realize the true cause of their problem is the Japanese social structure." The women suffer for all the wasteful efforts the Japanese make to maintain so-called stand family norms.
Since being involved in Attitudinal Healing and A Course in Miracles, Hiroko now believes that the world we see changes when each of us takes the responsibility of changing our own minds.
(The Holy Encounter, May/June 2006)
---